Launching the app
The AreaTester application is launched by entering the AreaTester command or the short alias ATST at the AutoCAD command line.
In the event that the installable version of the app is used, it can also be launched from the AutoCAD ribbon. To do this, go to the Add-ins tab and click on the AreaTester app icon (see Fig. 1):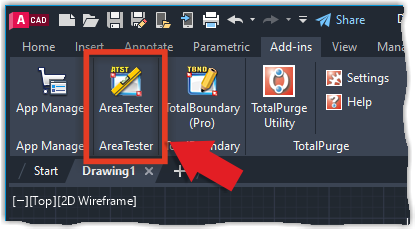 Fig. 1
AreaTester application icon in the
Add-ins
tab
If the Add-ins tab is not available, it can be displayed using the standard tab setup procedure in AutoCAD. To do this, right-click on the ribbon and select the option Show Tabs Add-ins in the context menu (see Fig. 2):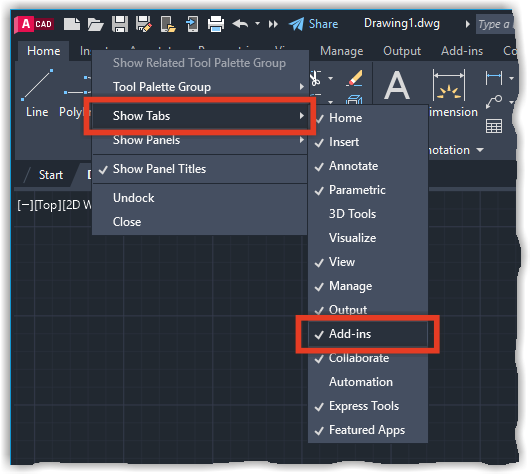 Fig. 2
You can display the
Add-ins
tab through the context menu item
Show Tabs
Objects selection
After launching the application, a preliminary selection of objects is carried out, among which the search for areas will be performed. At this stage, both individual closed objects (circles, polylines, etc.) and a whole fragment of the drawing, consisting of a large number of different entities, can be selected (see Animation 1).
After selecting objects, the program performs data parsing: it analyzes the selected set and determines closed areas. Parsing the selected set of objects takes some time. The more objects are selected, the longer the parsing process will take.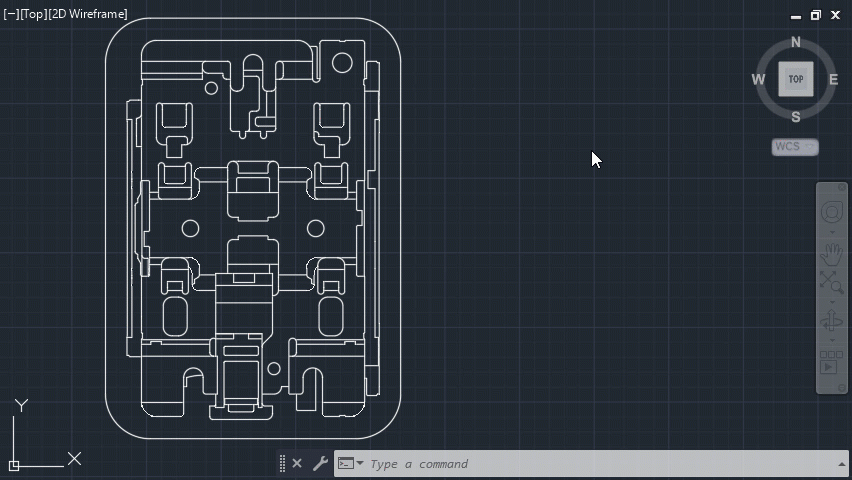 Animation 1
Demonstration of launching the AreaTester app and selecting objects with subsequent data parsing
At the end of the parsing process, the program will fill with a solid hatching of parts of the drawing with the detected closed areas. If the application does not detect any closed areas during the data parsing process, the user will be informed by a corresponding message.